Funktionen
bwUniCluster 2.0
The bwUniCluster 2.0 is a Tier-3 cluster for general purposes. Access is granted only for members of the shareholder universities. The users authenticate themselves with their usual university account via bwIDM, and the authorization is based on the bwUniCluster entitlement issued by the universities.
The registration procedure is built up of three steps:
Step A:
Obtainment of bwUniCluster entitlement
Contact your university in order to get the bwUniCluster entitlement. Each university has its own entitlement granting policies!
Step B: Web registration, 2-factor authentication and password
After getting the entitlement, you have to register yourself at the registration website
https://bwidm.scc.kit.edu/
of the provider. During the registration process you will register a 2FA token and set a password.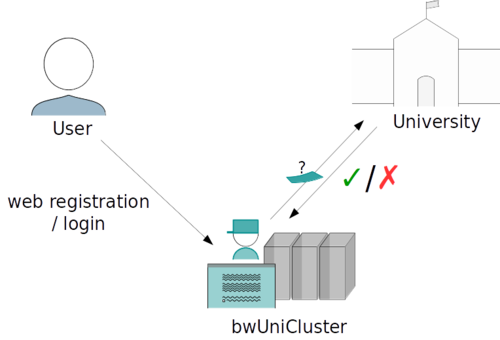 Step C: bwUniCluster questionnaire
During or after the web registration you must fill out a short questionnaire. You will be asked about your scientific field, the numerical methods you use, your field of activity and your type of activity.
Please, fill out the questionnaire within 14 days after your registration. Otherwise, your bwUniCluster account will be locked!
 

Further information about the registration process including links to the universities' websites can be found in the

bwHPC Wiki

.
The content of this e-learning module is licensed under the Creative Commons Attribution-NonCommercial-ShareAlike 3.0 Germany license (

CC BY-NC-SA 3.0 DE

).